9 foot Dazzle Delta by Gomberg Kite Productions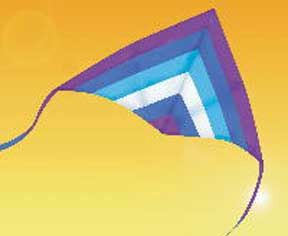 9 foot Dazzle Delta by Gomberg Kite Productions
9 Foot Dazzle Delta

The Dazzle Delta is 9 feet wide and 4.5 feet tall. That's over 20 square feet of flying fun. And we mean flying fun, Deltas are known for their ease of use. Deltas soar on the lightest of breezes.
Tough, durable nylon fabric will stay bright and beautiful for years of enjoyment! The
strong fiberglass frame is practically indestructible. We've included two permanent nylon tails at no extra charge. Pick your favorite, this kite has color options!!
Line sold separately. 

We recommend 150lb to 200lb line.